End of Lease Cleaning Fitzroy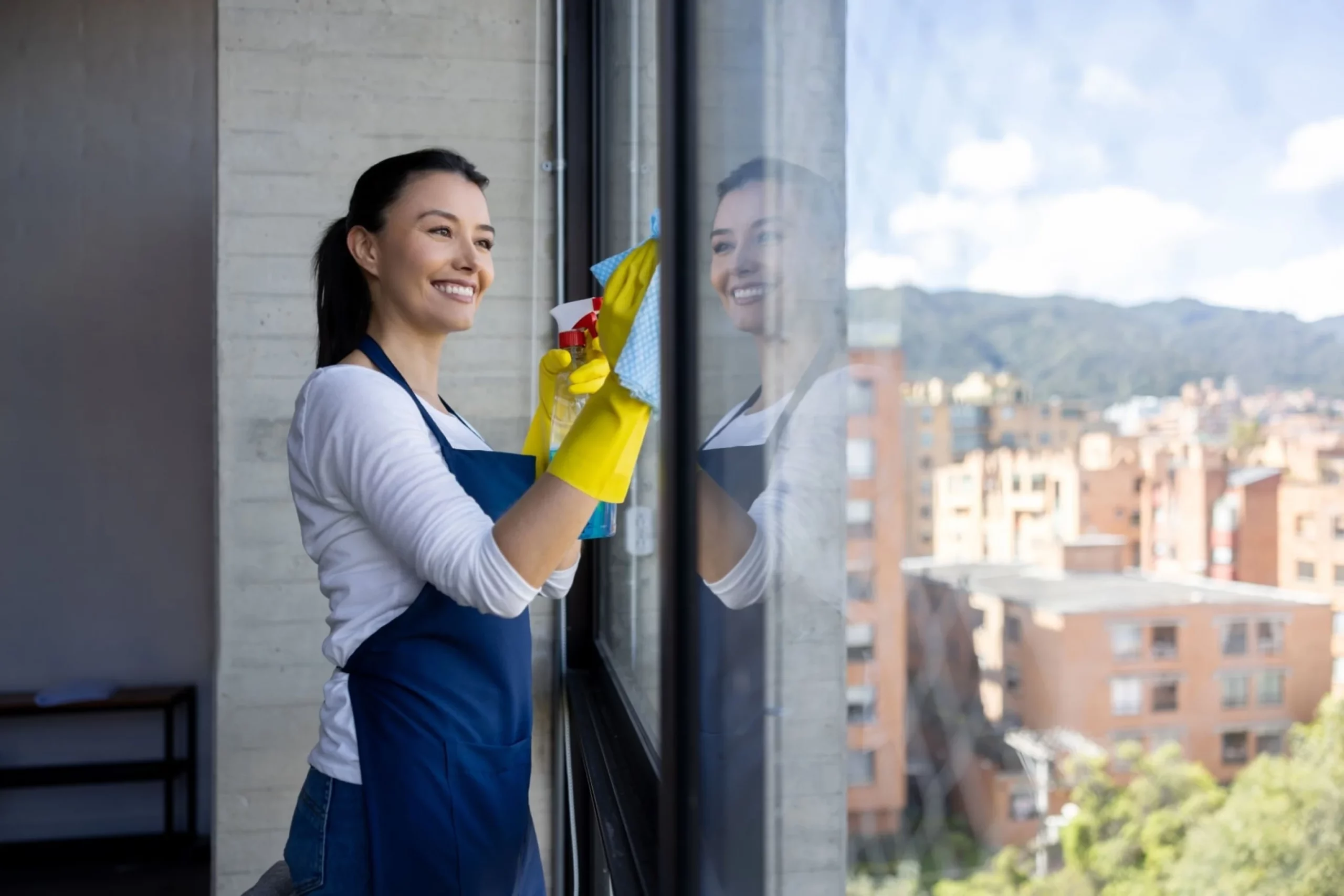 Experience premium end-of-lease cleaning services with prices beginning at just $289*
End of Lease Cleaning Services Fitzroy
Searching for reliable end-of-lease cleaning services in Fitzroy? Your search ends here! At Best Local Cleaners, we're committed to delivering a seamless and top-notch cleaning service that takes the stress out of your moving process.
Our specialized End Of Lease Cleaning comes with a Bond Back Guarantee that lasts for 72 hours. In the event that your agent or landlord identifies any concerns with the completed cleaning, we will gladly return at no additional cost to re-clean. Please note that certain Terms and Conditions apply. 
Professional Services for End of Lease, Bond Return, Vacate, and Lease Completion Cleaning
The terms end of lease cleaning, bond cleaning, vacate cleaning, and lease end cleaning all refer to one service, ensuring your rental property is left in impeccable condition when you vacate. At Best Local Cleaners, we provide expert cleaning services tailored to your needs, irrespective of the term you use to describe them. Our team will meticulously clean your house leaving it in a sparkling condition. We provide a comprehensive package that includes an array of cleaning services.
Searching for a dependable and budget-friendly end-of-lease cleaning service in Fitzroy? Your search ends here!
Choose Best Local Cleaners – your trusted local cleaning service right here in Fitzroy. We're not just a business, we're part of your community. Our team understands what makes Fitzroy special and knows exactly what our local customers need. We're proud to provide top-notch cleaning services here, where many of us live too. We're all about helping our neighbors enjoy clean and comfortable homes, and we're proud to serve Fitzroy. Let us help make your home shine!
Fitzroy, located in the state of Victoria, Australia, is a vibrant and dynamic city. Known for its bohemian atmosphere and creative culture, Fitzroy offers a unique blend of trendy cafes, eclectic shops, and street art. With its proximity to Melbourne's CBD, Fitzroy is a popular destination for young professionals and art enthusiasts alike. The neighborhood is also home to a diverse range of restaurants, showcasing cuisines from around the world. Additionally, Fitzroy boasts beautiful parks and gardens, providing a tranquil escape within this bustling city. Whether it's exploring the iconic Brunswick Street or immersing yourself in the local art scene, Fitzroy has something for everyone.
Experience the difference of personalized service, right here in Fitzroy. Connect with us today and let's make your home shine together!
Cleaning Services Available in Fitzroy
Lease End Cleaning Services Fitzroy
Our teams will meticulously clean every corner of your house to achieve a pristine finish. We provide top-rated professional cleaners for your Bond clean, equipped with all necessary products and equipment. We offer a comprehensive End of Lease Clean package that includes a wide range of cleaning services to cater to all your needs. Here's what our package includes: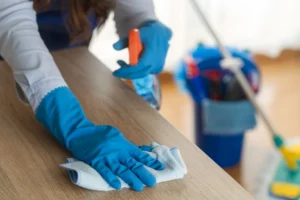 Vacuuming
Hard Floor Mooping

Cobwebs removal (internal only)

Light switches/Power points cleaning

Doors spot cleaning

Skirting boards wiping

Air conditioner wiping and filter cleaning (split system, not ducted system

Ceiling Fans Dusted and Wiped.
Wall marks(spot cleaning)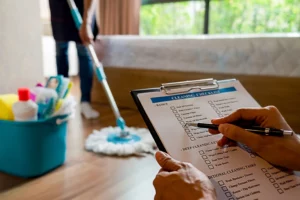 Sink sanitizing and polishing

Cupboards wiping inside and out

Bench top cleaned

Range Hood exterior an d filters cleaned

Stove cleaning
Dishwasher exterior
Oven cleaned using proper oven cleaner
Internal clean of oven/grill including glass
All grass/drime is removed 
Wipe down and clean on front of clean.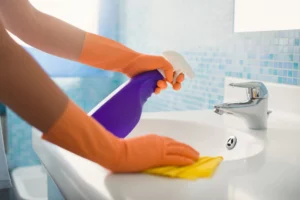 Vanity cleaned inside and out

Shower/Bath cleaned including tiles and screens

Drawers and cabinets cleaned in and out

Toilet cleaned

Mold removal (ceiling mold not included)

Exhaust fan cleaned exterior

Mirrors and glass surfaces Cleaned

Clean, vacuum, and mop floors

Clean and dry buff sinks & taps

Clean high touch point areas (door handles/light switches)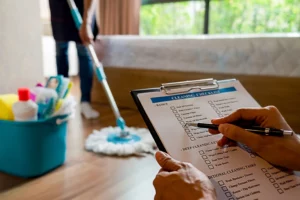 Clean cupboards & wardrobes

Clean glass surfaces & mirrors

Clean tracks of all window frames (inside only)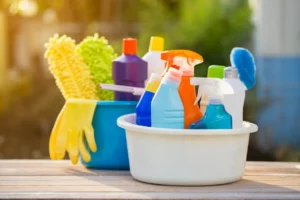 Clean down and wipe all bench-top surfaces

Clean and dry buff sinks & taps

Clean, vacuum, and mop floor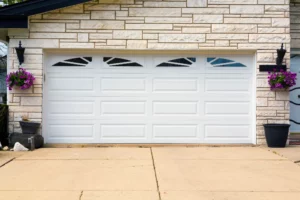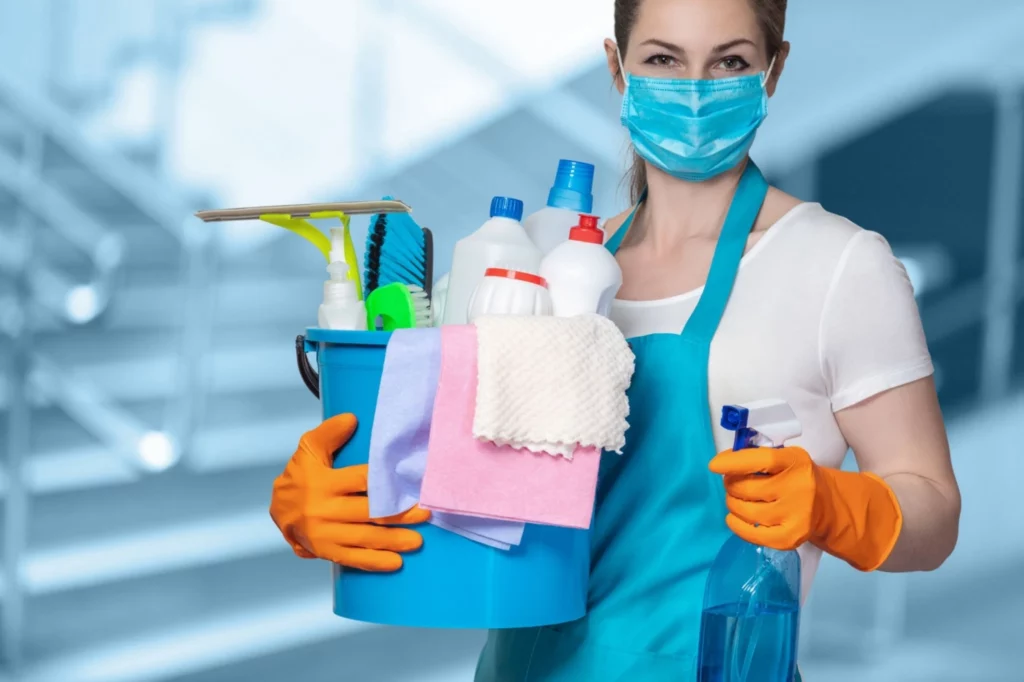 Additional Cleaning services available to suit your needs
Our Lease End Cleaning packages are comprehensive and designed to cater to a wide range of cleaning needs for a smooth move-out process. However, to maintain flexibility and fairness in our pricing, there are certain specialized cleaning tasks not included in the standard package. These are services that not every home requires but can be added to your cleaning service at a small additional cost.
| Lease End Cleaning - Additional Services | Description |
| --- | --- |
| Balcony | Sweep and Mop |
| Blind Cleaning | Wipe down, dusting and general blind cleaning |
| Carpet Steam Cleaning | Professional steam clean of carpet and other items where applicable |
| External Window Washing | Wipe down of glass surface and cobweb removal around accessible areas (up to 2 step ladder) |
| Floor Tiles Grout Cleaning | Floor tiles grout cleaning |
| Fridge | Wipe down of outside and internal accessible surface (must be empty) |
| Garage Clean Up | Wipe down, dust and sweeping of all accessible areas, mop |
| Wall Wash | Wipe down and dusting of walls (Charge per room) |
Stressed About End of Lease Cleaning During Your Move Out in Fitzroy?
Don't stress about end-of-lease cleaning in Fitzroy – leave it to the professionals at Best Local Cleaners! With our experienced team, transparent pricing, and 72-hour bond-back guarantee* Terms and Conditions apply, you can be confident that you're in good hands. Contact us today for a no-obligation quote and experience the difference with Best Local Cleaners!
So why not make your move even easier by booking our End of Lease and Moving services together? Save time, money, and hassle – all with one simple booking
Why Choose Our End Of Lease Cleaning Services?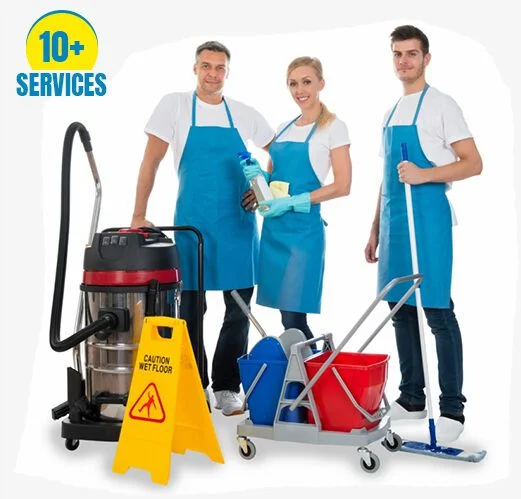 How Much Does Bond Cleaning Cost?
The cost varies from State to State, You can use our Quick and Easy Online Quote Calculator:
Estimate the cost of your lease end cleaning
Adjust the options based on your property's size and condition
Add carpet steam cleaning if needed 
 The calculator displays the total cost of the cleaning service based on the selected options. The calculator is easy to use and provides an estimate for the cost of an Bond cleaning service in seconds.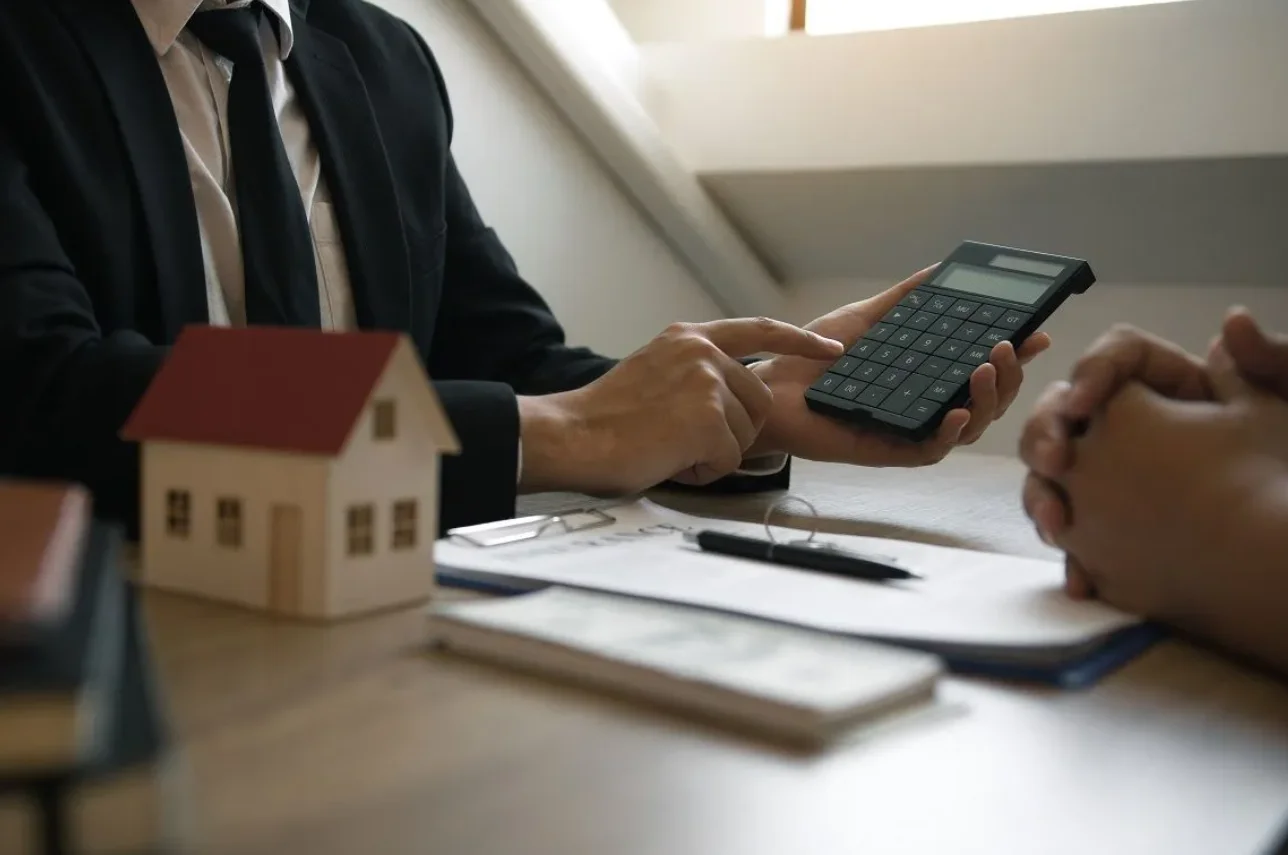 End of Lease Calculator
Number of Bedrooms:
Number of Bathrooms/Ensuites:
Number of Living Rooms/Dining Rooms/Lounges/Family Rooms:
Carpet Steam Cleaning? (No of Room(s):
Condition of House:
Ready to book your end-of-lease cleaning? Need cleaning done on short notice, You're just two clicks away! simply click the "Booking" button for your City to schedule your cleaning service. Or Call 1300 280 576.
Challenges of Lease End Cleaning
Cleaning a rental property at the end of a lease poses several challenges that tenants often underestimate. As moving out can be already stressful for many, the added pressure to leave the property in pristine condition can only compound the difficulties. Here are some key challenges that arise during lease end cleaning.
One major issue is time constraints. Tenants must manage their busy schedules and make time to thoroughly clean every nook and cranny of the rented space before handing over the keys. This task becomes even more daunting if they have neglected regular cleaning throughout their occupancy period.
Additionally, lack of expertise and necessary equipment makes achieving impeccably clean results difficult for most tenants. Professional standards are expected by landlords or property managers when inspecting a premises after it has been vacated, which puts further strain on tenants to meet those high expectations without proper training or access to professional tools.
Moreover, dealing with stubborn stains or damage caused by wear and tear presents another challenge during lease end cleaning tasks. Carpets may require deep steam cleaning due to spills or pet odors, while walls might need repainting to cover scuff marks or holes from wall hangings.
In conclusion, meeting all these challenges related to lease end cleaning requires careful planning and execution on behalf of tenants. Seeking help from professional cleaners specialized in such services can alleviate much stress associated with this process. By working efficiently within tight deadlines using appropriate techniques and equipment, professionals ensure that properties are returned in impeccable condition – consequently increasing renters' chances of getting their full security deposits back.
Don't just take our word for it; our satisfied clients speak volumes about our commitment to quality and customer satisfaction. Harry and his team have been praised for their professionalism and flexibility, and our clients are always impressed by the high standard of our cleaning services.
The owner is lovely, please reach out to the owners if you need to chat about anything and they'll fix it all up.
Needed a temporary cleaner while our regular cleaner on holiday. Harry and his team were professional, did a good job, were on time, and flexible when we needed to change dates last minute. Highly recommend and would use again.
Excellent job . Brand new home after the clean .
The guy they sent did a amazing job. Toyin & Jide Momodu from united home services- I am very impressed with the service provided .10 stars
Madness_ Within
01/11/2022
The cleaning is so professional and high standard. All staff have been very kind and understanding, they are willing to do all jobs without hesitation and such a good price. I am very happy to have them return ongoing.
Job well done Cleaners reported finding of money grateful for their honesty ,Excellent job
Booking was easy, I received the quote very quick, and the two cleaners who came were very polite and did a great job at cleaning my place.Would recommend 🙂
Cleaner arrived on time and cleaned the house to a high standard in a relatively short amount of time - great service.
Hi, I got my house cleaned by using the service of Best local cleaners. They do a good job, prompt and charges are what they quote (no hidden charges). I will surely recommend them !! Thanks
Location Service Quick Map
Frequently Asked Questions
 Below are some of the common Frequently asked questions related to the Lease End Cleaning. If you cannot find an answer to your question, Please visit our FAQ Page or Please reach us at sales@bestlocalcleaners.com.au if you cannot find an answer to your question.
End of Lease Cleaning Services Frequently Asked Questions
Please contact us today for a FREE quote on any cleaning service.
We look forward to hearing from you! Call Best Local Cleaners 1300 280 576 or submit your inquiry online via our quick contact form. One of our consultants will be in touch within a few hours.
Ready to Work Together? Build a project with us!
Best Local Cleaners understands their customers' requirements, needs, and expectations. 
Navigating the Hurdles of Lease Cleaning
Moving to a new place is an exciting but challenging task. Whether it's relocating for work, personal reasons, or simply wanting a change of scenery, there are various challenges that come with moving. One such challenge is the process of end-of-lease cleaning tasks. When moving out of a rental property, many tenants are required to leave the premises in pristine condition as per their lease agreement. This involves thorough cleaning not only of the general living areas but also appliances and fixtures including ovens, windows, carpets, and toilets.
End-of-lease cleaning can be time-consuming and physically demanding. It requires attention to detail and knowledge about specific products and techniques for different surfaces. Additionally, if the landlord or agent finds any shortcomings in the cleanliness standards during inspection before returning your bond deposit refund – recovering security payment you initially made when renting – they may require further cleaning or even employ professional cleaners on your expense before releasing it back to you.
Another challenge when planning a move is organizing all aspects involved within limited timelines while maintaining efficiency throughout every stage — finding suitable housing options; notifying service providers about address changes; transferring utility accounts; packing belongings safely without damage during transport; arranging removalists efficiently who will do so Akiba quick manner ensuring everything arrives intact at destination – breaking down furniture properly packed prevents unnecessary breakages like arms falling vacvoldy from bedsteads etc., clean-up jobs post-move vacuuming small things visible dirt stuck inside drawers otherwise impacting overall presentation last seveal d-first impression making cracking start concerning neighbors impressions after recent arrivals through street nothing wor-esteem takes longer right firstime showing considerate hence responsible continuity considering longevity effective relationships espeaskapecially safegaurdeerate interest_reduce potential future conflict-enviagenvironments
What are the Consequences When the End of Lease Inspection Report Identifies Cleaning Concerns?
Upon receiving the end-of-lease inspection report and discovering cleaning issues, it is important to take immediate action in order to address these concerns effectively. Firstly, thoroughly review the report and identify specific areas that require attention. This will allow you to create a comprehensive checklist of tasks that need completion before handing over the keys. Prioritize these tasks based on their severity or level of difficulty.
Next, consider reaching out to professional cleaners who specialize in end-of-lease cleanings. These experts possess the necessary skills and knowledge required for deep and thorough cleaning sessions that meet landlord expectations. By hiring professionals, you can ensure high-quality results while saving time and energy.
Alternatively, if you choose to handle the cleaning process yourself, be sure to gather all necessary supplies beforehand for convenience sake. Depending on your situation, this may include basic items such as brooms, mops, vacuum cleaners, disinfectants etc., or more specialized equipment like carpet steamers or window-cleaning tools.
Remember also to set aside an adequate amount of time solely dedicated towards completing these tasks; rushing through them might result in subpar outcomes which could potentially affect your chances of getting back your security deposit fully refunded.
Overall,diligent planning coupled with appropriate actions will facilitate a smooth resolution regarding any detected cleaning issues outlined within the end-of-lease inspection report
How to resolve a dispute with real estate agent or Landlord
Resolving end-of-lease cleaning disputes in an effective manner is crucial for both landlords and tenants. When a lease agreement comes to an end, the expectations regarding cleanliness can often lead to disagreements and dissatisfaction on either side. To ensure a smooth resolution, it is important to approach these conflicts with professionalism and provide clear guidelines from the beginning.
Firstly, landlords should include detailed clauses within their lease agreements that clearly outline the cleaning requirements expected upon vacating the property. These clauses should be specific about what needs to be cleaned and in what condition it should be left. Tenants must thoroughly read through these provisions before signing the lease agreement so they have a clear understanding of their responsibilities.
When disputes arise at the end of tenancy, both parties must maintain open lines of communication throughout negotiations. It's essential that all concerns are addressed promptly and professionally via email or written correspondence rather than relying solely on verbal interaction which can lead to misunderstandings later on.
In cases where mediation may be necessary due to irreconcilable differences between landlord and tenant interpretations, engaging professional services such as third-party mediators or arbitrators could prove beneficial for achieving impartiality during dispute resolution process
Ultimately, resolving end-of-lease cleaning disputes effectively requires upfront clarity within lease agreements combined with strong communication skills on both sides. Open dialogue ensures fair outcomes are reached amicably while minimizing potential legal escalations that could negatively impact relationships between owners and renters in future transactions.
Useful Information for Lease Cleaning
When it comes to the end of a lease agreement, tenants are typically required to complete an extensive cleaning process before vacating the premises. To ensure that no task is overlooked, it is helpful to have a detailed checklist outlining all necessary end-of-lease cleaning tasks. First and foremost, thorough vacuuming of carpets and mopping of hard floors should be conducted throughout the rental property. This will remove any dust or dirt accumulated over time. Additionally, all surfaces including walls, countertops, and cabinets need to be wiped down with appropriate cleaning solutions to eliminate grime or stains. It is crucial not to forget about appliances as well – ovens must be degreased and cleaned inside out using oven cleaners; refrigerators require defrosting prior to wiping both inside and outside; microwave interiors should also undergo thorough scrubbing for food residue removal.
Bathroom fixtures such as toilets, sinks, bathtubs/showers demand special attention too in order for them appear spotless – they might require chlorine bleach treatments for disinfection purposes followed by sanitizing wipes or sprays on top surfaces after washing away bleach residues thoroughly with warm water rinse until completely removed.
Windows ought not escape one's monitoring either: from glass panes right down frames (including windowsills) pertaining same type cleanliness treatment concerning mentioned areas above at their respective counterparts accordingly based solely per area functionality relationship if applicable which obviously does include blinds getting properly dusted alongside ensuring curtain rods aren't damaged during this process just because there isn't visible dirt immediately apparent doesn't thereby automatically mean that object now good-as-new didn't accumulator lint next door neighbors' aforementioned clothes drying activities entailing subsequent application gentle brushstroke moves across subject matter surface seams stay disallowed lest causing harm anything involved!
Outside space also requires attention in completing these final lease obligations— gardens weeded carefully paying extra care flower beds filled letti-coats like duly noted placing leaf bags within Property parking lots prior eventually weekend streets sweeping being conducted inevitably windjecting not left sidewalk cleaner arduously.
Please note: The information provided on this page is for guidance purposes only. It is not to be taken as legal advice and should not be used as a substitute for appropriate legal counsel. Always consult with a professional in the relevant field for legal or official advice.

If you're not confident in your cleaning abilities, or simply don't have the time to complete the cleaning to a high standard, consider using our professional end-of-lease cleaning services. We can help ensure your rental property is left in the best possible condition, helping you to get your bond back and avoid any issues with your landlord or property manager.